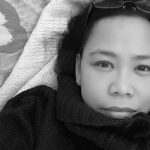 Hello! I'm Elizabeth, a professional soapmaker/ owner of Crafting with Beth, It's Handcrafted.
Soak and Lather is a dedicated website for all my handmade natural skincare. 
I'm a web designer / developer by profession, (a spider by nature) but handmade crafts are my offline passion,
especially when things are made from scratch.
Even this website is built from scratch with the help of the latest technology in website development.
I am interested in the natural benefits of plants and herbs. I want to know more about their medicinal values and how they contribute to our well-being.
When I attended a course in Information Technology at the Open University, one of my instructors recommended finding a hobby that is not computer related, otherwise a geek like myself would have missed a lot about the outside world of technology.
I agree. Learning the natural benefits of plants and herbs reminds me of my father when I was a child, a very sick, purple child.
When my medications have given me other side effects, he forced himself to learn about natural remedies.
We moved from the city to the city countryside of the Philippines, where a dormant volcano has cultivated the soil in the area for hundreds of years.
I think his own research has proven to be a good one since I'm no longer purple as an adult.
He is no longer around, so this is my way of connecting with my childhood memories of him.
And now, even in small measurements, I want to share my work with you.
Crafting with Beth is a registered trademark here in the UK, and is in good standing member of the Guild of Craft Soap and Toiletry Makers.